Castlevania: The Dracula X Chronicles
PlayStation Portable
Review
Fighting Vampires Has Never Been So Hard
Game: Castlevania: Dracula X Chronicles
Genre: Action Platformer
Platform: PlayStation Portable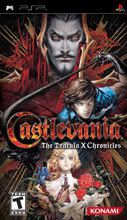 As a nearly life-long Castlevania fan and new owner of a PSP, getting the newly released Dracula X Chronicles was a no-brainer. What originally sold me was the fact that it would have my favorite Castlevania title, Symphony of the Night, in its entirety, but combined with Rondo of Blood, which has never been released in the U.S. before, it was bound to be a perfect fit. The last two Castlevania games I played were the DS versions, which I loved, but before that, I hadn't picked one up since Symphony of the Night came out on PS1. I'd played the old-school 8-and-16-bit installments in the series, but not for many years. Still, I figured that I was enough of a Castlevania fan that playing something entirely new wouldn't be a problem for me.
Wrong! The remade Rondo of Blood is hard. Like, cursing at your PSP and taking your frustration out on everyone around you hard. Even though there are only 8 real levels, you'll find yourself dying an awful lot and having to start back at the beginning again, since there are no mid-level save points. This may seem really unforgiving by today's standards, but keep in mind that this is an old-school game, and this is the way they used to be. I may have gotten spoiled on the last two Castlevania titles' many save rooms, potions, and various weapon choices, and now Rondo of Blood is here to bring me back to my gaming roots.
Another complaint about the game is the controls. Jumping from ledge to ledge can be a problem; you'll often find yourself taking a few extra seconds to time it perfectly, only to find yourself still falling into certain death below. The lack of weapons also a challenge, but you can still get through each level making the most of what you have. Despite its imperfections, Rondo of Blood is still a great game. It looks wonderful on the PSP, and the sense of accomplishment you experience at the end of each level is enormous; you feel like you really earned it. Also, with alternate levels and bosses hidden within the game, the replay value of Rondo of Blood is fairly high.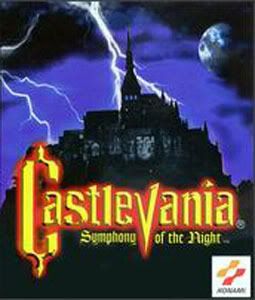 And did I mention that you can unlock Symphony of the Night? Sure, that's a challenge in itself, but it's well worth it. Being able to play my favorite Castlevania game again is awesome, and it's great that a new generation of gamers will be able to experience this classic title. It also gives me hope about other PS1 titles being remade for the PSP, since that seems to be a perfect fit. Even though the graphics haven't been enhanced and the game isn't in widescreen, you forget after about thirty seconds because this game is so good. I know it's available on Xbox Live Arcade for ten bucks, but can you bring Xbox Live Arcade with you everywhere you go? No, you can't.
Being able to play Castlevania on the go is something I never tire of, even after having played through both DS titles. Overall, this is a must-have title for any fan of the Castlevania series, as well as any PSP owner who's been waiting for a good action game. It may not be perfect, but who cares? You get two (well, kind of three—two of them being the old and new versions of Rondo of Blood) Castlevania games for $30, and these titles do not fail to deliver a terrific gaming experience.