Review
Live By The Stylus...
Game: Ninja Gaiden Dragon Sword
Genre: Action
Platform: DS
In the pantheon of classic video game franchises, one stands above all the rest when it comes to outright difficulty. One franchise that has frustrated gamers worldwide for decades, causing the untimely death of countless NES, SNES and Xbox controllers. The series is Ninja Gaiden, and in addition to being one of gaming's greatest series, its fast pace, punishing enemies and near-invulnerable level bosses make it one of its hardest. Tecmo's Team Ninja has brought the Ninja Gaiden to the handheld touch screen of the DS, and while this iteration brings down the curve in regards to difficulty, it still ranks as one of the best entries in the franchise.
Ninja Gaiden Dragon Sword takes place 6 months after the events of Ninja Gaiden for the Xbox. The story goes like this – You are master ninja Ryu Hayabusa and you kill everything in your way. There is the skeleton of a plot about the Dragon Sword, the Black Spider Clan, the Dark Dragon Blade, Dragon Stones and other such ninja foolishness buried somewhere in here, but honestly, who cares. You're here to kill things.
And kill things you shall. Gameplay takes place entirely on the touch screen, with the top screen displaying maps and the like, and the whole game is played with the DS held sideways, giving you more vertical space than in the usual DS game. Your stylus acts as your only interface with the game. Swiping it across enemies will do a simple slash, while more complex movements will perform more powerful techniques. For example, an upward stroke will make Ryu jump. A second upward stroke will send him hight into the air with his patented, flipping double-jump, and a final movement down sends him slashing his way down to earth, decimating everything in between. Tapping enemies at a distance will throw Ryu's throwing stars at them for minimal damage. When in combat, it may seem to others that the game consists of little more than frantic scribbling, but in reality, it's actually frantic scribbling with technique. Yes, it's a chaotic way to fight enemies, but in between slashing wildly at enemies, you'll need to do some precise attacks, as well as timely blocks and dodge-rolls, to survive.

Standard enemies are plentiful and resilient in Ninja Gaiden Dragon Sword. Their AI is nearly non-existent, but in a game like this, it hardly matters. Due to the sheer number of enemies, their "lurch forward and kill ninja" attack methods are quite effective at chipping away at your health. For situations like these, you'll have access to Ninpo magic, a standby for the series. In Dragon Swords, however, it works a bit differently. Tapping the Ninpo icon in the top left of the screen stops the action and brings you into a separate screen where you'll need to fill in a Kanji symbol to cast the magic spell. Most spells are offensive in nature, like fireballs and lightning strikes, but there is also a spell that heals Ryu completely. New spells can be unlocked by beating level bosses or by purchasing them in the village.

Ironically, the game's standard enemies pose more of a challenge than the level bosses. While a varied, diverse strategy is required to clear rooms of regular bad guys, a steady stream of tuck rolls and jump slashes is all it takes to dispatch most of the Dark Dragons. It's a bit disappointing considering how powerful the bosses are in most Ninja Gaiden titles. Some of the later bosses in the game provide a bit more challenge, but they still feel like a break from the far more punishing regular battles.
The DS is not known as a particularly powerful machine when it comes to graphics, but Ninja Gaiden Dragon Sword squeezes every last ounce of visual processing power out of the little console. Ryu and every other character in the game is rendered in full 3D, and despite the small screen and limited abilities of the DS, they look fantastic. Bosses are especially impressive, usually taking up most of the screen. Sadly, much of the game's action takes place from a far away view, so it's rare that you get a good up-close view of Ryu or anyone else. That's okay, though, because the character models look great in motion, and the hand-drawn background art is simply stunning. Cinematic scenes are all hand-drawn in an anime style, and not only do they look great, but they do a fine job of advancing the story. The animated style (along with the lack of blood) does give it a somewhat less adult feel, but certainly not enough to make people think it's a kid's game. There are some weird perspectives from time to time, but overall, Dragon Sword is hands down the single best looking game I've ever seen on the DS.
Excellent sound design has always been a hallmark of the Ninja Gaiden series, and Dragon Sword is no exception. In addition to the crisp sounds of sword slashes and shuriken throws, you're treated to a subtle, distinctly Japanese soundtrack that never distracts from the action, but always feels right when you actually notice it playing. The DS' tiny sound chip makes voice acting nearly impossible, but there are some nice moments in conversations where NPC's will make human sounds instead of words. There's even one instance where Ryu speaks his full name and it sounds perfect.
Technically, Ninja Gaiden Dragon Sword is an extremely impressive achievement, making the absolute most of the hardware on which it plays. No other DS game looks or plays like Dragon Sword. Fans of the series shouldn't expect the same level of challenge or sheer content that the Xbox titles deliver, but they can count on a fast-paced, fun, frenetic, combat-heavy action game that uses he DS technology in an inventive and effective way. If you own a DS and have even a passing interest in action games, I can't recommend this one highly enough.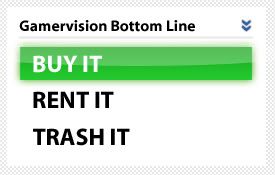 Related Articles:
Ninja Gaiden II Demo On The Way
Ninja Gaiden II Release Date Announced